Here are all the fantastically amazing entries posted during May, 2006
May 31st, 2006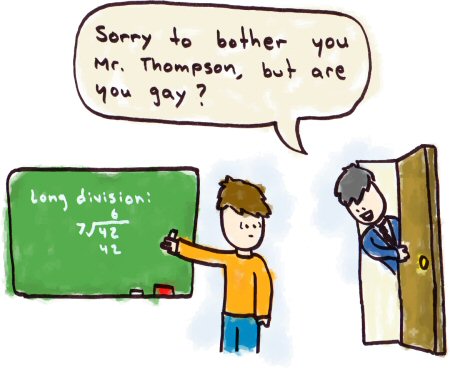 Oh, goody! The Halifax Regional School Board (yes, the same one that was punished by the Human Rights Commission for assuming their gay teachers were molesting students) will now be sending out a lovely batch of surveys! The surveys, which each teacher will be required to fill out and sign tomorrow, includes the age-old question: "Are you heterosexual, bisexual, gay, or lesbian?" You know, because that would shed so much light on how well someone can teach long division…
While the school board was quick to note that they won't be penalizing teachers for unanswered questions (gee, how nice of them!), the Nova Scotia Teachers Union is unimpressed. President Mary-Lou Donnelly isn't quite sure what to recommend to union members, claiming that the board soundly rejected her suggestion of making the surveys anonymous.
The board will probably be more subtle next year ("Which of the following sexes would you most like to marry?"), but, in the meantime, I suggest that the current wording leaves only one answer…
Q: Are you heterosexual, bisexual, gay, or lesbian?
A: Yes.
Proudly Canadian

The Trophy Shelf

Thanks to readers like you, Slap has been voted the Best GLBT Blog in Canada at the Canadian Blog Awards for the fifth consecutive year!

How to Slap

Find a kooky bigot
Extend your arm and form a firm slapping hand
Slap upside the head