May 19th, 2006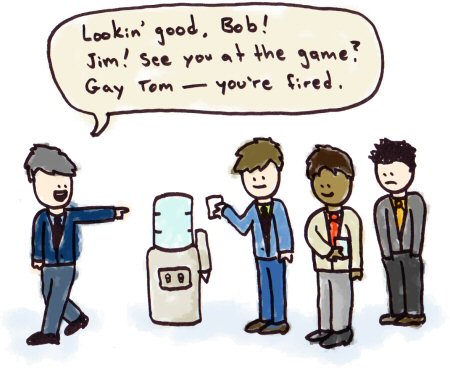 According to a survey released to coincide with the National Day Against Homophobia last Wednesday, over 60% of Canadians agree that coming out in the workplace is harmful to one's career. As if that's not discouraging enough, 28% of respondents then went on to state that they've personally witnessed gay bashing at the office. Quelle horreur!
Thankfully, this doesn't seem to apply to bosses, as 75% of Canadians think a gay or lesbian boss would get just as much respect from their employees as a straight one.
So… Basically, if you're gay, and out at work, and manage to avoid outright gay bashing—let alone hit your head on the glass ceiling—only 25% of your employees won't respect you. Hooray?
Slap Into Action

Take Action!

"Curing" gays shouldn't be a charitable activity in Canada. Help put a stop to phony charities and

Slap into Action!

Proudly Canadian

The Trophy Shelf

Thanks to readers like you, Slap has been voted the Best GLBT Blog in Canada at the Canadian Blog Awards for the fifth consecutive year!