May 26th, 2006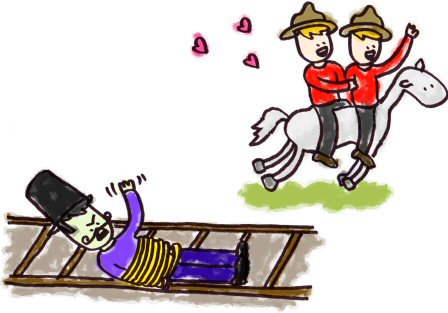 Adorable news! The RCMP will be celebrating their first official same-sex marriage ceremony this summer! Longtime couple Const. Jason Tree and Const. David Connors will be exchanging vows in full Mountie getup on June 30th, although they haven't decided if they want an honour guard performed for them.
Even though I've never been a fan of red felt (at least, that's what it looks like those uniforms are made of…), let me be among the first to wish the happy couple years and years of wedded bliss. Just keep an eye out for that mischievous Snidely Whiplash (aka Stephen Harper).
Slap Into Action

Take Action!

"Curing" gays shouldn't be a charitable activity in Canada. Help put a stop to phony charities and

Slap into Action!

Proudly Canadian

The Trophy Shelf

Thanks to readers like you, Slap has been voted the Best GLBT Blog in Canada at the Canadian Blog Awards for the fifth consecutive year!