June 14th, 2006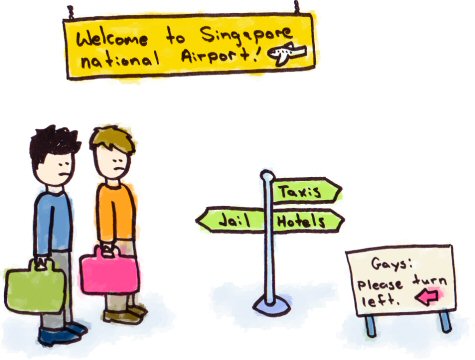 Going somewhere exotic for vacation? Somewhere boring for business? Well, Canada's Consular Affairs Bureau would like to have a quick word with you first! They've updated their travel information booklet, entitled Bon Voyage, But, and the new 2006/2007 edition contains some lovely new warnings for us gays!
What's the warning, you ask? Well, basically, if you're gay—and especially if you're married—beware! Not only will most countries not recognize your marital status, but many will arrest or even kill you. Why, even our friendly neighbours to the south will turn you away if you declare yourselves as married on your travel paperwork.
So if you're planning on going to breathtaking Singapore, heed the government's new advice: "Homosexuality is illegal. Convicted offenders may face lengthy jail sentences and fines." And don't even think of going to breathtaking Iran, as you may be sentenced to lashing, a prison sentence, and/or death. Jinkies!
Personally, I appreciate the government's work, but I think I'll stick to regional travel for now… Alberta Carriage Museum, anyone?
Slap Into Action

Take Action!

"Curing" gays shouldn't be a charitable activity in Canada. Help put a stop to phony charities and

Slap into Action!

Proudly Canadian

The Trophy Shelf

Thanks to readers like you, Slap has been voted the Best GLBT Blog in Canada at the Canadian Blog Awards for the fifth consecutive year!