July 19th, 2006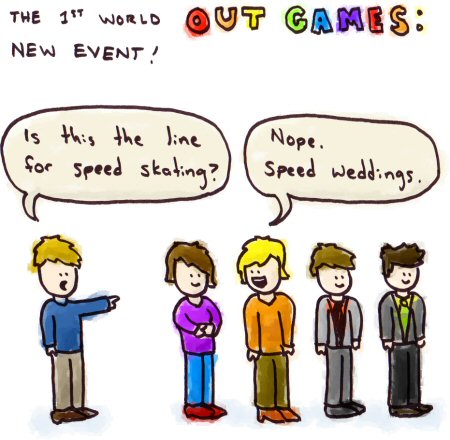 Well, this shouldn't come as a surprise. Numerous gay couples and athletes attending the 1st World Outgames in Montréal this month have chosen to wed while they're here!
Canada is, of course, only one of four countries with equal marriage rights, and this gives Outgame participants the perfect opportunity to get a real wedding. (You know, none of that "civil union" nonsense.) In fact, I wouldn't be surprised if some couples even seek refugee status from their home(ophobic) countries while here. (I hear it's all the rage in India, after all.)
So, to all the soon-to-be-wedded couples, congratulations! I'm sure you'll be very happy together with proper recognition! Uh, provided our new conservative government will issue you your visas…
Slap Into Action

Take Action!

"Curing" gays shouldn't be a charitable activity in Canada. Help put a stop to phony charities and

Slap into Action!

Proudly Canadian

The Trophy Shelf

Thanks to readers like you, Slap has been voted the Best GLBT Blog in Canada at the Canadian Blog Awards for the fifth consecutive year!