August 11th, 2006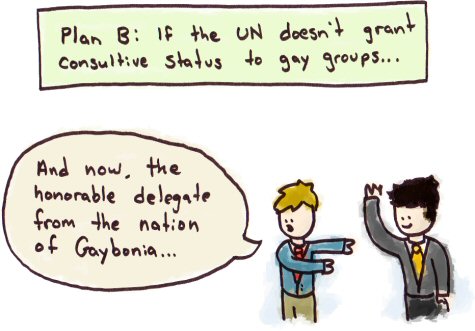 Montreal gay groups are anxiously awaiting a decision from the UN Economic Social Council on whether or not three gay rights organisations will get consultive status at the UN. Consultive status would allow the groups to formally address the international community.
Encouragingly, Lousie Arbor, the UN high commissioner for human rights, spoke at the International Conference on LGBT Human Rights last month.
I hope that [my speech] will send a signal to the entire world community that we have to be very present to those who historically and currently today are still—if not totally—voiceless and very much the victims of exclusion and marginalization.
Well, here's hoping for a positive outcome! Addressing the UN would be a powerful statement. I can see it now… "Dear countries that oppress and harm us: Seriously, stop it."
Slap Into Action

Take Action!

"Curing" gays shouldn't be a charitable activity in Canada. Help put a stop to phony charities and

Slap into Action!

Proudly Canadian

The Trophy Shelf

Thanks to readers like you, Slap has been voted the Best GLBT Blog in Canada at the Canadian Blog Awards for the fifth consecutive year!