August 25th, 2006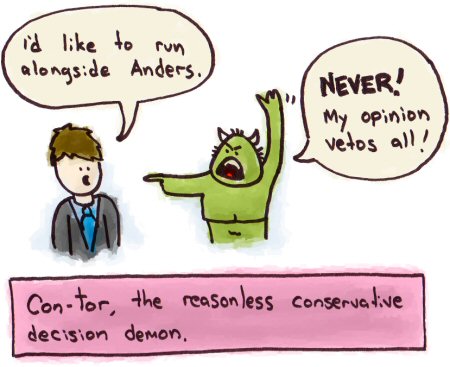 OK, in your best "soup nazi" voice: No reason for you! Next!
Walter Wakula, former Tory riding president for Calgary West, will not be allowed to challenge incumbent wacko , Rob Anders, for nomination. Absolutely no reason was given for Wakula's disqualification, leaving everyone to scratch their head noisily—an action that Tories seem to evoke quite easily these days.
Anders (who, incidentally, was my MP before I got the hell out of Calgary), is best known as the sole dissenter in giving Nelson Mandela honorary Canadian citizenship, calling the man a communist and a terrorist. I remember Anders more for his crafting of flyers that linked crystal meth usage to "homosexual sex marriage" and mailing them to the wrong constituency.
So, why wouldn't the conservative party allow a less controversial MP to run alongside Anders for the nomination when a clearly qualified former riding president is available? My guess: Anders is an undercover alien involved in a large conspiracy to slightly warm the rightmost chairs in the House of Commons! This is top secret stuff, folks…
Slap Into Action

Take Action!

"Curing" gays shouldn't be a charitable activity in Canada. Help put a stop to phony charities and

Slap into Action!

Proudly Canadian

The Trophy Shelf

Thanks to readers like you, Slap has been voted the Best GLBT Blog in Canada at the Canadian Blog Awards for the fifth consecutive year!