October 30th, 2006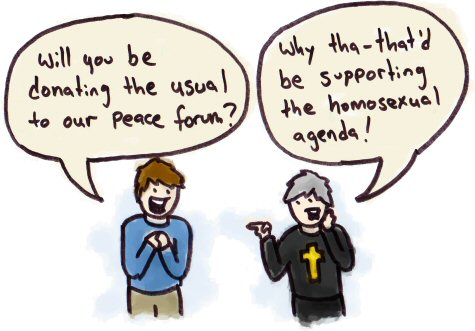 The Roman Catholic Diocese of Hamilton has rescinded their annual funding for the Challenge for Change peace forum because this year's keynote speaker, James Loney, is gay.
Loney, incidentally, is the Roman Catholic peace activist that was held hostage in Iraq for several months. But, of course, the church simply shan't be promoting peace if it means letting his kind speak. What meaningful input could he possibly shed on the subject, anyway? Scoff!
The forum somehow managed to go ahead without the Diocese's $500 donation. This year's theme was "The Price of Peace."
Slap Into Action

Take Action!

"Curing" gays shouldn't be a charitable activity in Canada. Help put a stop to phony charities and

Slap into Action!

Proudly Canadian

The Trophy Shelf

Thanks to readers like you, Slap has been voted the Best GLBT Blog in Canada at the Canadian Blog Awards for the fifth consecutive year!