October 16th, 2006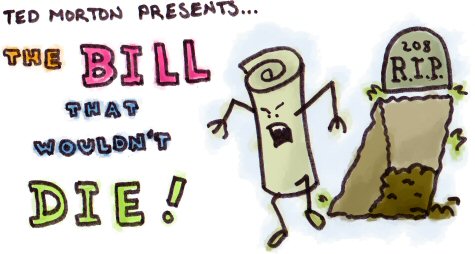 Ah, Halloween! That time of year when the undead drag their rheumatic limbs through the streets, assorted ghouls knock door to door, and the conservative campaign for a new Alberta premier kicks off…
Ted Morton, incidentally, is taking a shot at premiership. And what do you suppose is one of his top-two campaign promises? Why, a re-RE-introduction of Bill 208, which has now failed to make it through parliament twice! The bill, if passed, would remove all legal consequences for those "acting out on their beliefs" against same-sex marriage. (Restaurant waiter? Don't like gays? Well, no need to serve 'em!)
The bill also includes specific clauses that would force teachers to send out "parental warnings" before discussing gay issues, and allow civil marriage commissioners to deny their public services to gays.
Now, I'm not entirely sure why Teddy thinks 208 will survive legislature the third time around, but I gotta give him some anti-gay credit for persistence. And for those of you unsure of what to be for halloween, I'm delighted to announce that a Bill 208 "undead" costume pattern is in the works! In preparation, please put bury some ancient parchment for a week; instructions will follow.
Slap Into Action

Take Action!

"Curing" gays shouldn't be a charitable activity in Canada. Help put a stop to phony charities and

Slap into Action!

Proudly Canadian

The Trophy Shelf

Thanks to readers like you, Slap has been voted the Best GLBT Blog in Canada at the Canadian Blog Awards for the fifth consecutive year!