December 8th, 2006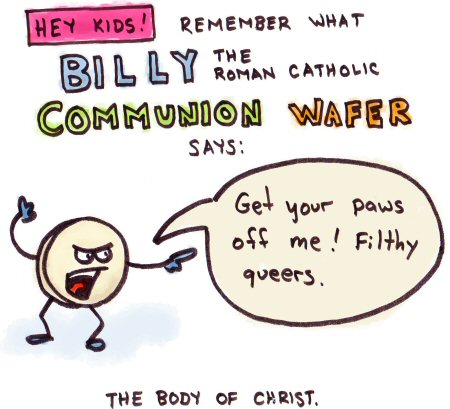 An anti-gay archbishop? Unthinkable! Well, OK, maybe not.
Archbishop Terrence Prendergast of the Halifax archdiocese has demanded that his priests refuse holy communion to Daniel Poirier and Jack Murphy, an elderly gay couple.
The unexpected and swift punishment came after the two 69-year-olds published their wedding announcement in a local newspaper. The couple, who have been Roman Catholic their entire lives, were completely shocked.
"It really was a blow," said Daniel. "When we went to church there, it was like going into a warehouse; it was cold, because when everybody got up to receive communion, we had to sit down. I was almost in tears and my heart was broken."
The church also removed Daniel from his position as choir director.
Ah, isn't the Catholic Church enlightened? It's such a simple idea: Judge others harshly in front of friends and community by exploiting the Holy Sacrament! After all, gay sinners are, like, 50 cagillion times worse than straight sinners. That's the Church's motto, right?
Well, until Monday, folks! Have a great weeken—oh, wait, no. There was some other recent news I was supposed to remember to tell you guys about today… What was it? Something about a vote—a defeated motion, maybe? I think it might have involved a 52-vote margin. Oh well, I'm sure it was nothing newsworthy.
Have a good one!
Slap Into Action

Take Action!

"Curing" gays shouldn't be a charitable activity in Canada. Help put a stop to phony charities and

Slap into Action!

Proudly Canadian

The Trophy Shelf

Thanks to readers like you, Slap has been voted the Best GLBT Blog in Canada at the Canadian Blog Awards for the fifth consecutive year!