March 23rd, 2007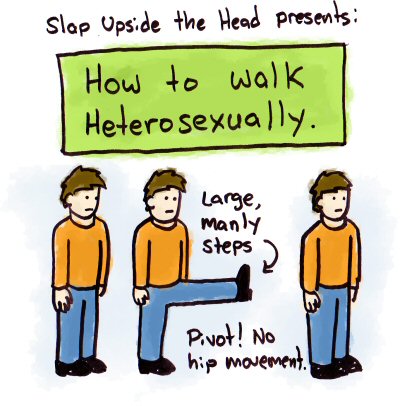 The Philippine National Police has issued a warning instructing its gay officers to refrain from swaying their hips as they walk. Failure to do so will result in their termination.
Chief Superintendent Samuel Pagdilao said that while the force does not discriminate against gay officers in any way, they will fire anyone who "misbehaves:"
As an institution, the PNP does not look at or interfere with one's sexual preference, but it does look at its members' conduct.

If they sway their hips while marching, or if they engage in lustful conduct, I think that will be a ground for separation.
I'm not entirely sure how my stride appears to onlookers, but if turns out to be career-threateningly gay, I suppose I'll need the number of a good physical therapist. Preferably someone cute.
Well, until Monday folks!
Slap Into Action

Take Action!

"Curing" gays shouldn't be a charitable activity in Canada. Help put a stop to phony charities and

Slap into Action!

Proudly Canadian

The Trophy Shelf

Thanks to readers like you, Slap has been voted the Best GLBT Blog in Canada at the Canadian Blog Awards for the fifth consecutive year!