May 7th, 2007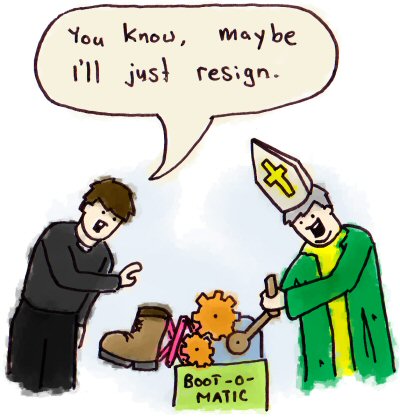 Reverend Shawn Sanford Beck, a priest in Saskatoon, has resigned his position after refusing to renounce same-sex marriage. Beck, who had his license stripped in January, was given a temporary license and an ultimatum by Bishop Rodney Andrews back in March: Either stop supporting equal rights for gays, or get lost.
Well, it looks like Beck has bravely chosen the latter. (Though he made his intention clear quite some time ago.) In an open letter, he called the church's position on same-sex marriage "theologically problematic and fundamentally unjust."
And, with that, I'm officially out of ideas on how to illustrate priests being kicked out by their churches. If you've got an idea for the next one, send your suggestions to:
Priest Ejections
c/o Slap Upside The Head
123 Gay Street
Montréal, QC G4Y 8O1
Slap Into Action

Take Action!

"Curing" gays shouldn't be a charitable activity in Canada. Help put a stop to phony charities and

Slap into Action!

Proudly Canadian

The Trophy Shelf

Thanks to readers like you, Slap has been voted the Best GLBT Blog in Canada at the Canadian Blog Awards for the fifth consecutive year!