October 15th, 2007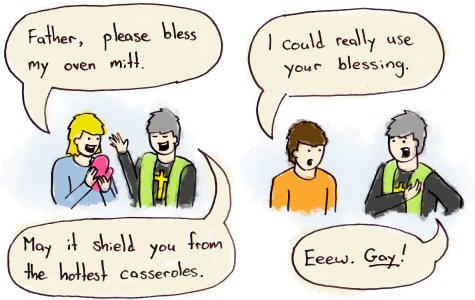 Ottawa Anglicans have voted to allow priests to approach the bishop to request that they can bless same-sex couples.
(I'll wait if you need to re-read that.)
This clear and decisive baby step passed by a vote of 177 to 97 on Saturday, making Ottawa Anglicans the first in Canada to not officially forbid same-sex blessings. A national meeting over the summer decided that blessing same-sex couples was not against core church doctrine, but that such blessings should be banned. Blessings that are allowed nationally include heterosexual unions, births, houses, boats, and pets.
Slap Into Action

Take Action!

"Curing" gays shouldn't be a charitable activity in Canada. Help put a stop to phony charities and

Slap into Action!

Proudly Canadian

The Trophy Shelf

Thanks to readers like you, Slap has been voted the Best GLBT Blog in Canada at the Canadian Blog Awards for the fifth consecutive year!