November 7th, 2007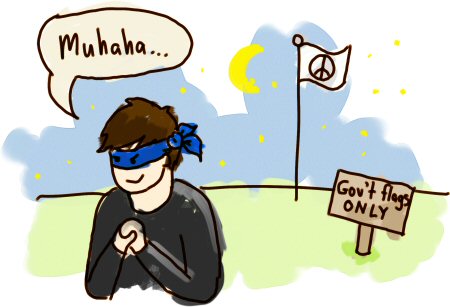 The town of Truro, Nova Scotia, has backed out of an agreement to fly an AIDS awareness flag on World AIDS Day later this month.
Truro, in case you forgot, is the town that refused to fly a Pride flag in August. The Mayor rationalized that decision with his famous press announcement: "If I have a group of people that says pedophiles should have rights, do we raise their flag too?"
Unlike the Pride flag fiasco, the town previously agreed to fly the AIDS-awareness flag, but is now backing down. The town says their newly-formed policy to fly government flags only supersedes any existing agreements.
No flags for anyone. Yeah, that ought to solve the issue.
Slap Into Action

Take Action!

"Curing" gays shouldn't be a charitable activity in Canada. Help put a stop to phony charities and

Slap into Action!

Proudly Canadian

The Trophy Shelf

Thanks to readers like you, Slap has been voted the Best GLBT Blog in Canada at the Canadian Blog Awards for the fifth consecutive year!