December 10th, 2007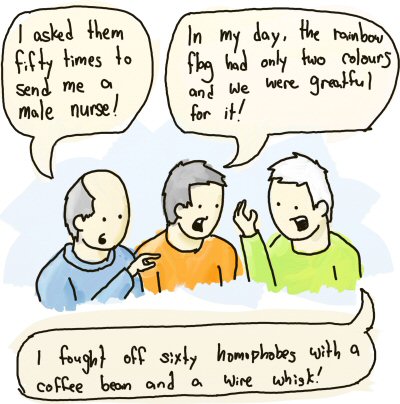 Retirement homes aren't always the most welcoming environment for elderly gays. Homophobia and rejection are common, and Dean Malone and Darren Stoltz have decided to help put an end to it.
The two business men run Plum Living, which provides in-home care for aging gay and lesbians. Their business has been so successful that they are now planning to build a luxury care home for retired gay folk. Malone said the project is getting lots of support:
We told people about the meetings through our little network of people and word of mouth and expected maybe 10 or 15 people to show up. We got more than 50 people at each meeting, so I think this is something that the community wants.
Adorable! I may still have some years before I'm eligible to live there, but I wonder if they'll offer a pride-flag crocheting course?
Slap Into Action

Take Action!

"Curing" gays shouldn't be a charitable activity in Canada. Help put a stop to phony charities and

Slap into Action!

Proudly Canadian

The Trophy Shelf

Thanks to readers like you, Slap has been voted the Best GLBT Blog in Canada at the Canadian Blog Awards for the fifth consecutive year!