August 1st, 2008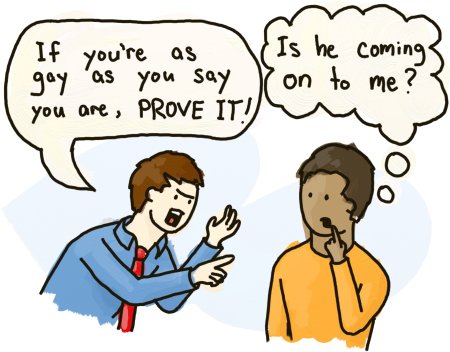 A refugee claimant in Winnipeg is set to be deported to his native Nigeria after failing to prove that he's gay. The anonymous refugee said that, as a gay man, life for him was not safe in his home country. Indeed, homosexuality is illegal in Nigeria, and violators can face lengthy prison terms.
Judge Yves de Montigny, however, rejected the refugee's claims, saying that since the man couldn't describe the function of EGALE—Canada's largest gay rights organisation—and confused the names of two Winnipeg gay bars, he mustn't be gay at all. This new legal definition of "gay" now puts most of Canada's gay men in danger of deportation.
The 38 year old man says he will apply to stay in the country on humanitarian and compassionate grounds, though if past cases are any indication, he won't have much luck. Canada's record on gay immigrants is atrocious, and doesn't appear to be improving.
Slap Into Action

Take Action!

"Curing" gays shouldn't be a charitable activity in Canada. Help put a stop to phony charities and

Slap into Action!

Proudly Canadian

The Trophy Shelf

Thanks to readers like you, Slap has been voted the Best GLBT Blog in Canada at the Canadian Blog Awards for the fifth consecutive year!