December 3rd, 2008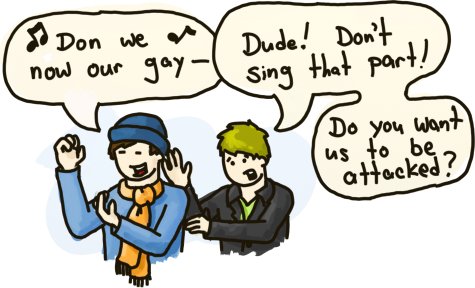 A young man has been arrested in Vancouver after punching a gay man in the face for singing Christmas carols.
The victim, who did not wish to identify himself to the media, was walking past St. Paul's hospital with a friend when he became inspired by the Christmas lights display and burst into carols. The attacker, 21 year old Christopher Clifford Mercier, suddenly became enraged and punched the singer in the face while shouting anti-gay slurs.
While the victim was not seriously injured, these attacks are serious. This is Vancouver's second, reported, spontaneous anti-gay attack this autumn. Jordan Smith, another Vancouver gay man, suffered a broken jaw after being assaulted in late September.
The Vancouver police are investigating the attack as a hate crime, a move which I applaud. Minorities are often at a greater risk of assault for no reason other than simply being a minority; this is why hate crime laws are in place. Gay bashing is not a sport and it is vital that the police send out a message that this will not be tolerated.
Slap Into Action

Take Action!

"Curing" gays shouldn't be a charitable activity in Canada. Help put a stop to phony charities and

Slap into Action!

Proudly Canadian

The Trophy Shelf

Thanks to readers like you, Slap has been voted the Best GLBT Blog in Canada at the Canadian Blog Awards for the fifth consecutive year!