January 19th, 2009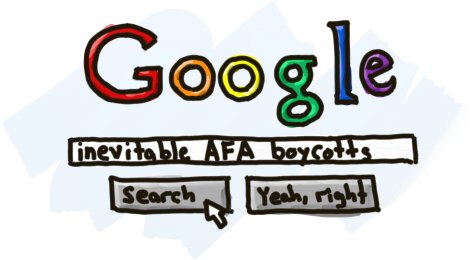 Google, the California-based search giant that I've just totally wasted my first sentence even bothering to describe, is continuing to follow through with its support of same-sex marriage. The company announced on Thursday that they had officially signed an amicus brief in support of court challenges aiming to strike down the ill-conceived Proposition 8:
Denying employees basic rights isn't right, and it isn't good for businesses. We are committed to preserving fundamental rights for every one of the people who work hard to make Google a success.
In protest, anti-gay lobby groups will now use a methodical guessing procedure to find websites—at least until their own search portal, www.search-engine.jesus, goes live.
Slap Into Action

Take Action!

"Curing" gays shouldn't be a charitable activity in Canada. Help put a stop to phony charities and

Slap into Action!

Proudly Canadian

The Trophy Shelf

Thanks to readers like you, Slap has been voted the Best GLBT Blog in Canada at the Canadian Blog Awards for the fifth consecutive year!