April 20th, 2009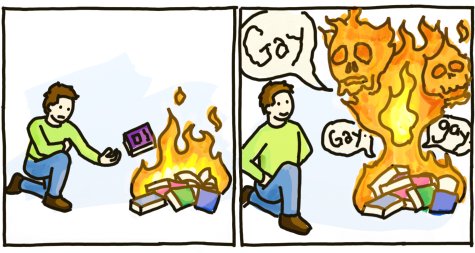 And Tango Makes Three, a children's picture book about penguins at the Central Park Zoo was the most challenged book for the third consecutive year, according to the American Library Association.
The book recounts—through delightfully charming watercolour illustrations—the true story of two male chinstrap penguins at the Central Park Zoo who incubate and hatch an abandoned egg, raising it as their own. The picture book generated more formal complaints and was pulled off more Library shelves than any other book in 2008, with most complainants criticizing it for being "anti-family," "pro-gay," and "anti-religion." (I'd just call it "pro-adorable.")
GAFPA, The Gay, Athiest, Family-Destroying Penguin Association, has issued a press-release, calling the book censorship "Chirpichirpi-Quaaaah!"
Slap Into Action

Take Action!

"Curing" gays shouldn't be a charitable activity in Canada. Help put a stop to phony charities and

Slap into Action!

Proudly Canadian

The Trophy Shelf

Thanks to readers like you, Slap has been voted the Best GLBT Blog in Canada at the Canadian Blog Awards for the fifth consecutive year!