April 28th, 2010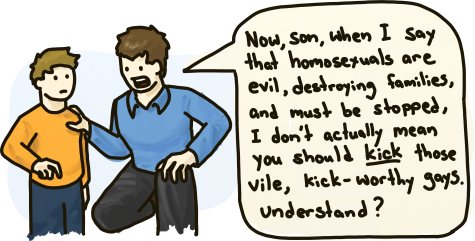 A 31-year old lesbian was violently assaulted in Edmonton last week in what she and her friends are calling a hate-motivated attack. Shannon Barry required two facial plate implants to repair a broken jaw and crushed eye socket after being kicked in the face while her assailants shouted anti-gay slurs.
Thankfully, an arrest has now been made: A 14-year old boy who cannot be identified by police.
Personally, I find that age pretty shocking. Fourteen. Who and what could possibly influence a kid to assault a woman over twice his age? I mean, other than the religious figures, politicians, lobby groups, and other adult role models who routinely encourage an unnatural hatred toward an entire minority group.
Slap Into Action

Take Action!

"Curing" gays shouldn't be a charitable activity in Canada. Help put a stop to phony charities and

Slap into Action!

Proudly Canadian

The Trophy Shelf

Thanks to readers like you, Slap has been voted the Best GLBT Blog in Canada at the Canadian Blog Awards for the fifth consecutive year!