June 6th, 2011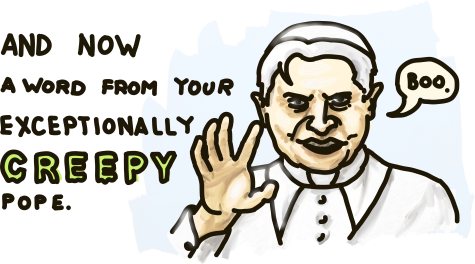 Pope Benedict XVI appeared before an audience in Croatia yesterday to plead for couples to marry instead of simply living together as common-law partners. In his anticipated homily, the pope lamented a "secularized mentality which proposes living together as preparation, or even a substitute as marriage."
So, to all you young couples out there: Do not, under any circumstances, live together before marrying. Just trust that all your quirks will be perfectly compatible, legally combine your lives and finances, and start having children right away. Don't adopt; that robs children of their natural, unfit-by-admission parents. And take this advice to heart. After all, how could recommendations from an 84 year old celibate who has no personal experience with romantic relationships be wrong?
Still, it's nice to hear the pope come out in vocal support of marriage after dedicating years to preventing me from getting married. I wonder what made him change his heart so quickl—oh, wait, my mistake; his speech still implied that gay families aren't real families, our relationships are unnatural, and that we somehow rob children of their rights.
Ouch. And given all his years of wisdom, he must have a point; the pope lifestyle is far more natural. I mean, why else would popes emerge so readily in nature?
Food for thought, I guess…
Slap Into Action

Take Action!

"Curing" gays shouldn't be a charitable activity in Canada. Help put a stop to phony charities and

Slap into Action!

Proudly Canadian

The Trophy Shelf

Thanks to readers like you, Slap has been voted the Best GLBT Blog in Canada at the Canadian Blog Awards for the fifth consecutive year!