October 1st, 2012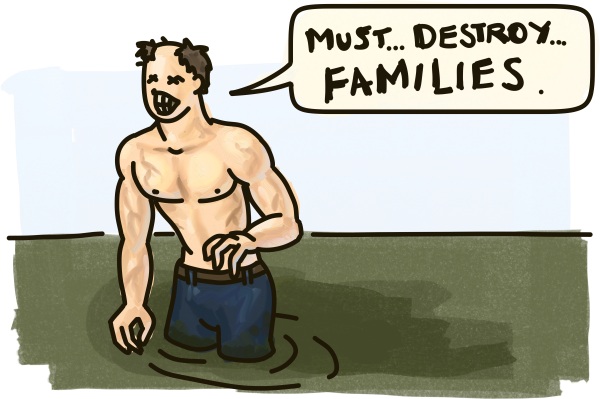 In a speech to French bishops last week, Pope Benedict XVI announced that gay people aren't fully developed humans and are threatening families. While I'm sure very few gay people actually care what the pope thinks of us, sometimes this guy just evokes imagery I really want to draw.
"The family is threatened in many places by a faulty conception of human nature," the Pope said in reference to the emergence of equal marriage laws. "[The Church] must promote those values that permit the full development of the human person," he continued.
Hmm… I was born a few weeks prematurely. Do you suppose that's what the Pope means?
At any rate, this about-face on the subject of the "full development of the human person" is kind of new for the Catholic Church, who normally argues for the rights of zygotes, fetuses, and other not fully developed humans. Still, for the time being, it's clear that half-developed human creatures (all of which are gay) are out to destroy your family. So, you know, be on the look out for that or something.
Slap Into Action

Take Action!

"Curing" gays shouldn't be a charitable activity in Canada. Help put a stop to phony charities and

Slap into Action!

Proudly Canadian

The Trophy Shelf

Thanks to readers like you, Slap has been voted the Best GLBT Blog in Canada at the Canadian Blog Awards for the fifth consecutive year!