Slap Into Action
No Tax Benefits For Phony Charities!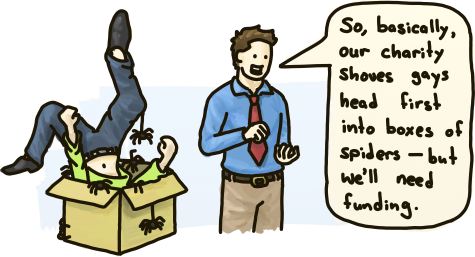 Did you know that a U.S.-based "ex-gay" organisation is enjoying tax benefits in Canada for attempting to "cure" gay people?
The long-standing consensus in the medical and psychological community that homosexuality is not a disorder and cannot be changed or "cured." Numerous peer reviewed studies have even shown that attempts to treat homosexuality as a disorder can result in serious psychological harm.
Yet Exodus Global Alliance is operating in Canada as a registered charity, and enjoying all the tax benefits that entails!
"Curing" gay people is not a charity! With your help, we can get Exodus' charitable status revoked.
Here's How To Help



Sign the petition, write your letters, then share this story on Facebook and Twitter, or add this badge to your blog.
You Can Make A Difference
Since this campaign started, I've been interviewed by journalists and have participated in radio interviews to help spread the message, but others have been helping out even more. The Québec section of the federal New Democratic Party adopted this campaign as official party policy once they heard about it, but we're still not done.
We Need You!
If concerned people don't speak out, these important issues can fizzle, considered by officials as being irrelevant to the public. Let's not let that happen! Sign the petition; keep sending your letters; help send a message that Exodus' charitable status should never have happened, and must be corrected immediately. Slap into action!