The Archive of Slaps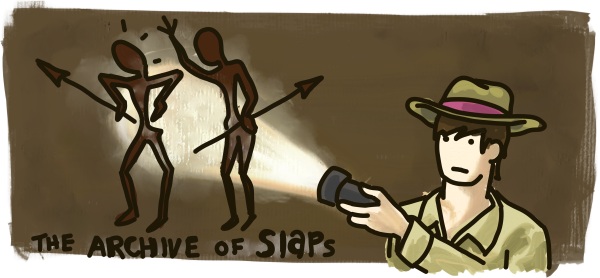 Slap Upside The Head dates all the way back to April, 2006. Now, being around for 11.5 years might not sound impressive, but that's makes Slap the ripe old age of 55 in Internet Years*. And isn't that what matters most?
Anyway, if you'd like to read what used to be on the front page, click on a month below. I guarantee it'll be more fun than a million birthdays†.
2017

2016

2015

2014

2013

2012

January 2012, February 2012, March 2012, April 2012, May 2012, June 2012, July 2012, August 2012, September 2012, October 2012, November 2012, December 2012

2011

January 2011, February 2011, March 2011, April 2011, May 2011, June 2011, July 2011, August 2011, September 2011, October 2011, November 2011, December 2011

2010

January 2010, February 2010, March 2010, April 2010, May 2010, June 2010, July 2010, August 2010, September 2010, October 2010, November 2010, December 2010

2009

January 2009, February 2009, March 2009, April 2009, May 2009, June 2009, July 2009, August 2009, September 2009, October 2009, November 2009, December 2009

2008

January 2008, February 2008, March 2008, April 2008, May 2008, June 2008, July 2008, August 2008, September 2008, October 2008, November 2008, December 2008

2007

January 2007, February 2007, March 2007, April 2007, May 2007, June 2007, July 2007, August 2007, September 2007, October 2007, November 2007, December 2007

2006
* One Internet Year equals 4.7 Julian years, why not?
† Not a guarantee