OK, kiddo! Here are all the fantastically amazing posts tagged with Anglicans
March 12th, 2007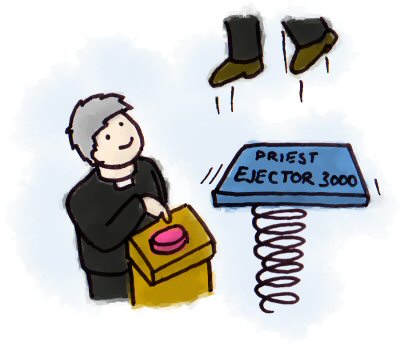 Anyone got a golf score clicker I can use?
An Anglican priest in Saskatoon will have his minister's license stripped for not refusing to perform same-sex marriages. Reverend Shawn Sanford Beck said he'd rather be dismissed than go against his conscience:
[Denying same-sex marriages] goes against everything else I'm about in my ministry and everything else that the church stands for. I'm trying to send a very strong message to the gay and lesbian community, and to other communities that have been alienated from the church, that we don't all think the same and there are people willing to go to the wall.
While I commend Reverend Beck for his stand, his ejection doesn't surprise me considering the Anglican Church is willing to shut down entire congregations and punish retired Archbishops over their pro-gay stance. Of course, the Catholic church is also quite happy to fire priests, deny communion to elderly volunteers and rescind charity money over gay speakers.
This judgment is apparently called the "What Would Jesus Do?" approach.
Incidentally, in addition to losing his minister's license, Reverend Beck will no longer be able to continue working for a Lutheran inner-city project. Yep, that'll teach him to treat gay people as ordinary human beings!
February 26th, 2007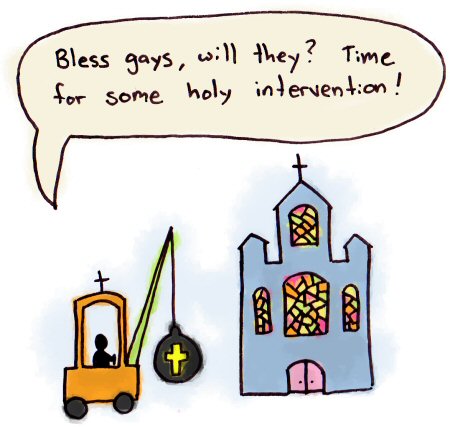 B.C. Anglican churches may be forced to shut down if they don't stop blessing gays. The Anglican Communion, a global collection of Anglican authorities, issued this ultimatum to "errant" churches last week in Tanzania.
This is especially unfortunate for the churchgoing community who agrees with their local church over the foreign ultimatum. Under the Anglican structure, church buildings are owned by the Anglican denomination itself, not the individual parishes who pay their mortgage. If a parish is thrown out of the denomination, it must surrender the property, or pay double to purchase it.
Throwing an entire community out of their church for blessing gay people like anyone else… That's totally what Jesus would do, right?
October 13th, 2006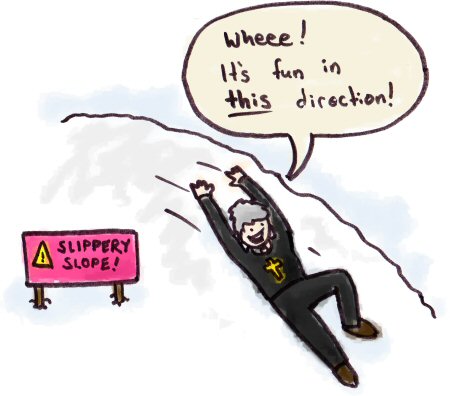 The Anglican Church has suspended a retired Archibishop for blessing a same-sex couple at their wedding. Although the wedding took place in a non-Anglican church and the marriage certificate was signed by a different, non-Anglican minister, Archibishop Terrence Finlay was suspended for officiating over Mary Rowe and Sandra Morris, his longtime friends.
Gee, from what all the anti-gay groups were saying earlier, I thought same-sex marriage was supposed to be a terrifying slippery slope—forcing priests to marry gay couples left-and-right. Who'd have thunk that it's the priests who'd be forced to refuse their blessings?
And just think! If we get that new Defence of Religions act that Justice Minister Vic Toews promised (because religions are having such a hard time), then a Justice of the Peace or civil marriage commissioner can refuse their officiation, too!
Whoops! Watch your step here, folks; it's icy!
Proudly Canadian

The Trophy Shelf

Thanks to readers like you, Slap has been voted the Best GLBT Blog in Canada at the Canadian Blog Awards for the fifth consecutive year!

How to Slap

Find a kooky bigot
Extend your arm and form a firm slapping hand
Slap upside the head