OK, kiddo! Here are all the fantastically amazing posts tagged with Danielle Smith
June 18th, 2012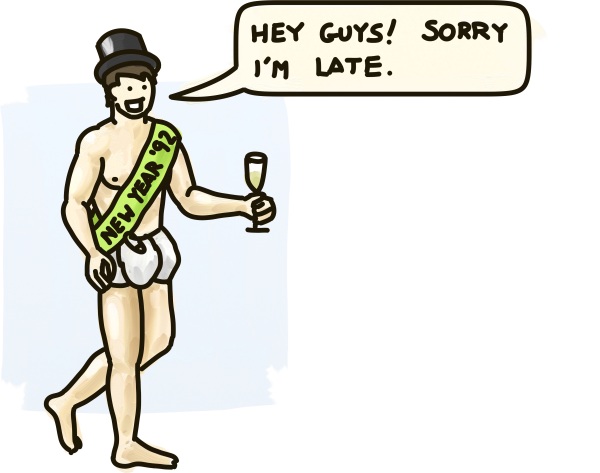 Alberta Premier Alison Redford took part in Edmonton's annual Pride parade earlier this month, making her the province's first premier to ever participate in a Pride event.
While this might seem awfully late compared to other provinces, it's actually a pretty big deal for Alberta. When I left Alberta in the mid-2000s, premier Ralph Klein was still pushing for a national referendum on same-sex marriage after conceding that banning it was outside of provincial juridiction. Edmonton's mayor, Bill Smith, flatly refused to recognize Pride week as a city event because… actually, I'm still not sure why. I was personally made to feel unwelcome in multiple facets of day-to-day life, helping spawn the site you're reading now. So to see a premier march—and then speak to a crowd of thousands—in support of equal rights for the GLBT community is an important milestone.
Of course, there's still some progress to be made. That same week, Alberta's opposition leader Danielle Smith blasted the government's plan to re-instate the small amount of health funding for sex reassignment surgery, calling it an elective cosmetic procedure. Members of Danielle's party have been spouting some pretty bizarre anti-gay comments (prompting the production of a new T-Shirt), and a prominent plan in her party's platform involved allowing regular citizens to legally refuse public services to gay customers.
Still, it's clear where the overall trend is headed in Alberta. And that trend is toward the late 1990s. So, welcome! And congratulations.
April 9th, 2012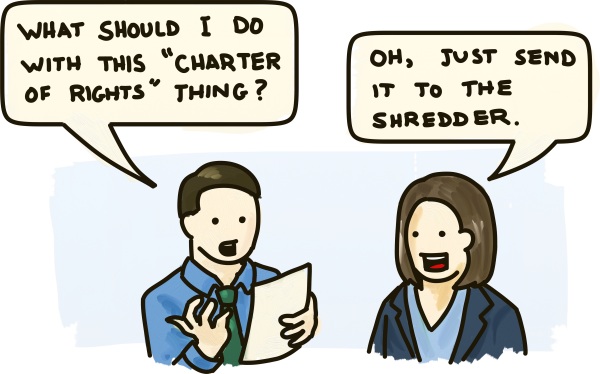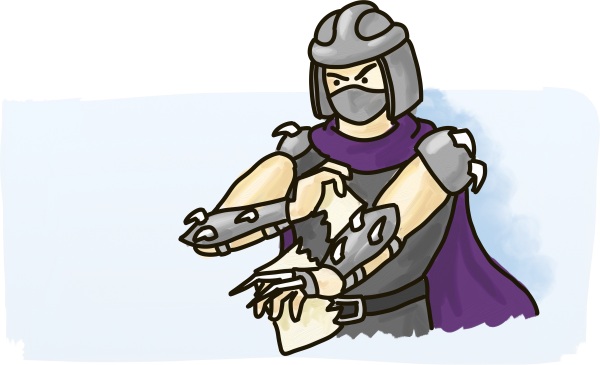 The Wildrose Party, a socially-conservative provincial party hoping to wrestle power away from Alberta's current conservative government, is defending its election platform against some pretty serious criticism this month. The policy is pretty far to the right of the political spectrum, even by Alberta's standards.
One contentious point in particular, though, involves the concept of "conscience rights:" The ability for citizens in the service industry to refuse public services to others based on whatever private religious beliefs they may hold. If made into policy, explicit situations include civil marriage commissioners legally refusing their services for gay couples, pharmacists refusing to fill prescriptions for birth control, and other equally wacky concepts.
I'm not sure if Wildrose is aware that this kind of legislation swings both ways, allowing someone like me to refuse services to, oh… say, members of the Wildrose party. You know, for being total knobs.
More to the point, though, this policy would be illegal, as the federal Charter of Rights and freedoms forbids public service discrimination based on race, sex, age, religion, or sexual orientation. Frighteningly, though, the party could weasel this kind of bill into law through obscure constitutional loopholes like the Notwithstanding Clause, and they haven't ruled this step out. I would certainly hope Albertans wouldn't tolerate such extremes.
Danielle Smith—the leader of the Wildrose Party—steadfastly defended the policy, however, releasing a statement accusing all concerns surrounding the policy as "fear-mongering" by "liberal politicians." If you ask me, it sounds like someone's got their hubcaps in a twist over some pretty serious constitutional flaws in their policy. Here's hoping Albertans don't stand for this kind of nonsense on April 23rd.
Proudly Canadian

The Trophy Shelf

Thanks to readers like you, Slap has been voted the Best GLBT Blog in Canada at the Canadian Blog Awards for the fifth consecutive year!

How to Slap

Find a kooky bigot
Extend your arm and form a firm slapping hand
Slap upside the head