OK, kiddo! Here are all the fantastically amazing posts tagged with Family Research Council
March 25th, 2009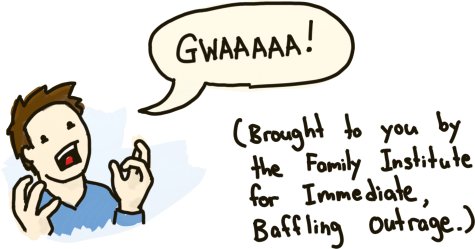 The United States government has indicated that it will finally sign a U.N. document denouncing the criminalization of homosexuality worldwide.
This new move will reverse a bizarre decision made by the Bush administration in December, where the United States broke ranks with the majority of U.N. members (including every European country, as well as all North, South, and Central American nations—excluding the island of Saint Lucia) in refusing to sign the symbolic document.
The anti-gay lobby group, Family Research Council, is, of course, enraged:
Adding to the long list of Bush positions that are now history, the Associated Press reports that the Obama administration will reverse Bush's policy and endorse a nonbinding U.N. declaration to "protect" homosexuals. […] Press reports emphasize that the declaration calls for the "decriminalization" of homosexuality, a policy already forced on the U.S. by a 2003 Supreme Court decision.
Ah, yes, don't we all wax nostalgic now and then for the good ol' days when U.S. laws were more like those of Iran, Afghanistan, Iraq, and North Korea? Those halcyon days when gays like me were simply locked away where no one had to concern themselves over our existence. Surely those were simpler times—before that mean old Obama marched on in, tore that cooling pie right off the window sill, and sucker punched grandma in the ribs.
A super hat tip to JJ at Unrepentant Old Hippie for digging up the story.
November 24th, 2006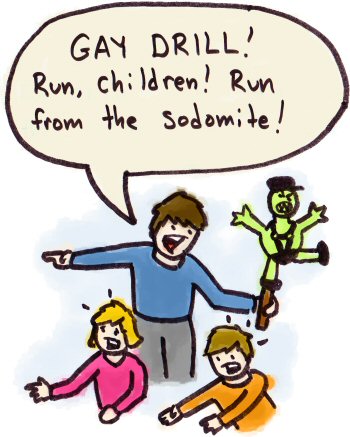 Bill Whatcott, the anti-gay activist who had his nurse's license suspended, has been ordered to pay $17,000 for repeated human rights violations. The kicker? He's refusing to pay.
In an open letter hand-delivered to 3500 households, Whatcott explained his rationale for the civil disobedience, painting himself as a saviour of children—who he says are in immediate danger of being molested by homosexuals. Observe his ever-so-moving penmanship:
It is a fact that a greater percentage of homosexuals molest children than their heterosexual counterparts. Sodomites only consist of between 2 – 3% of the population. Yet they commit of over 33% of the reported sex offences.
Charming. I feel the sympathy already. Gee, Bill, I can't imagine how you were found guilty of hate crimes…
Incidentally, the paper that Whatcott cited for the above "fact" was written by one Dr. Timothy Dailey (Ph.D in religion) and published by the anti-gay lobby group "Family Research Council." It has been thoroughly disproved and runs contrary to every single peer-reviewed study on the subject. Even the suppliers of the statistics that Dr. Tim cited to arrive at his conclusion have decried the work as deceptive manipulation. One, Dr. Nicholas Groth, even demanded that any reference to his work be removed from the offending paper; an extraordinarily rare move in the academic community.
Whatcott knows all this, but hey—can you blame him? I mean, his only other choice is to do something crazy like, I dunno, be big enough to admit that his actions were libelous and wrong and accept the consequences.
Have fun avoiding the law, Billy!
Proudly Canadian

The Trophy Shelf

Thanks to readers like you, Slap has been voted the Best GLBT Blog in Canada at the Canadian Blog Awards for the fifth consecutive year!

How to Slap

Find a kooky bigot
Extend your arm and form a firm slapping hand
Slap upside the head