OK, kiddo! Here are all the fantastically amazing posts tagged with Radio
Kool 105.5, a Calgary-based radio station, is tackling bullying with a pretty novel incentive: A contest. The school that signs the most pledges asserting that everyone has "the right to feel safe, respected, valued, and accepted" will get a free concert performed during school hours. Of course, if anyone breaks the pledge, all memory of the concert will be surgically removed by a brain specialist.
September 15th, 2008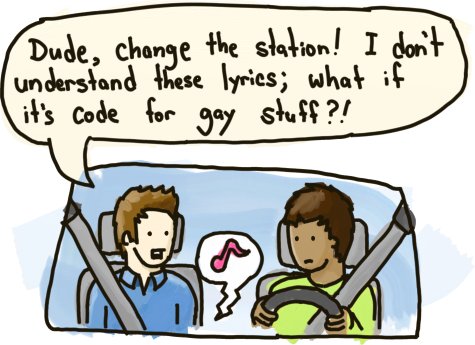 Chasing Pavements, a hit song by UK artist Adele, has reportedly been banned by some radio stations in the United States over bizarre claims that the mellow pop song is actually a gay anthem.
Adele, speaking at the Nationwide Mercury awards last week, expressed disappointment over the whole incident, insisting that there's absolutely nothing gay in the song:
Some weirdo on the Net wrote that Chasing Pavements was about being gay, which isn't true at all. Because of that some radio stations in the States wouldn't play it.
Adele said that the controversy started after an anonymous user posted an entry at Urban Dictionary, a slang dictionary website to which anyone can contribute definitions. The term "chasing pavements" was not on the site until after the song was released, but is now defined as something… err, not terrifically fitting for such a laid back ballad. Weirder still, there's nothing in the rogue definition that is necessarily gay-related, making me wonder why all this gayness entered the picture in the first place.
Still, those of you who want to hear this filthy, filthy song can catch it on YouTube.
April 11th, 2007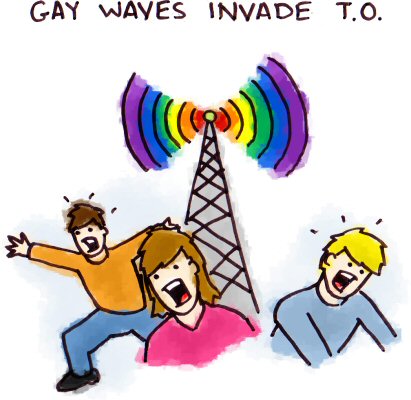 Looks like the airwaves are about to get a little more gay next week!
Proud FM 103.9, an all-gay radio station, is set to launch Saturday in Toronto. While its signal strength is a relatively weak 50-watts, it is the first traditionally broadcasted, gay-themed radio station in Canada.
As typical for this sort of thing, the station has already faced its share of criticism. One financial partner has already withdrawn their backing, and Lorne Gunter, a columnist for the National Post, even suggested that the new station was awarded under anti-Christian pretenses:
[The CRTC] turned down a Catholic FM station for T.O. because it wouldn't be diverse enough, even though it promised shows for 12 cultural groups in at least 11 different languages. Meanwhile, [Proud FM] was licensed to advance diversity, despite pledging to focus almost exclusively on gay issues.
Cute. Though, in reality, the Catholic FM station's bid was on an entirely different frequency (101.3), which was ultimately awarded to CJSA-FM, a multi-cultural station.
Regardless of the bumps along the way, the station looks like it will be all ready for launch. So let me be the among the first to extend a hearty "G-G-G-Good Luck (Zap–Zap–Zap–Whoosh) to P-P-P-Proud FM (Eff-Emm): One-Oh-Three Point Niiiiine."
Proudly Canadian

The Trophy Shelf

Thanks to readers like you, Slap has been voted the Best GLBT Blog in Canada at the Canadian Blog Awards for the fifth consecutive year!

How to Slap

Find a kooky bigot
Extend your arm and form a firm slapping hand
Slap upside the head