OK, kiddo! Here are all the fantastically amazing posts tagged with Regina
December 14th, 2007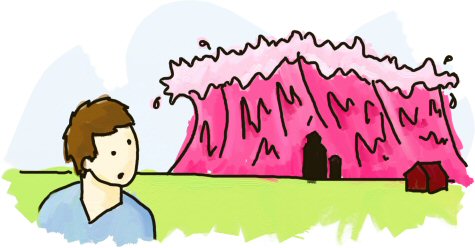 There was a story back in September about a grade 9 kid who was bullied and called homophobic names for wearing a pink shirt on the first day of school.
The next day, two of his classmates campaigned online and arrived with dozens of pink shirts, turning the school into a "sea of pink."
Heartwarmingly enough, the campaign seems to have spread! Hundreds of students at Balfour Collegiate in Regina Saskatchewan donned their pinkest garments this week in protest of homophobia and bullying. Micheil Rothwell, a grade 10 student, said the event was sorely needed:
This is really important today because everywhere people think it is OK to make homophobic remarks. They think it is OK to say, "That's gay." But we are here today saying that it is not OK. We are not going to tolerate it anymore.
It's only been 10 years since I graduated from high school, and I'm impressed by how much attitudes have changed. Mind you, I went through the Catholic system, which is a tad behind the times; there, books are still considered dangerous.
March 28th, 2007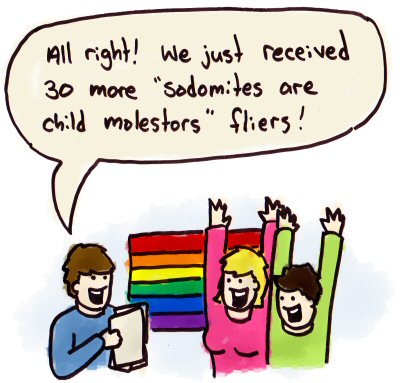 Remember Bill Whatcott? His hysterical anti-gay stance has won him repeated human rights violations and a job suspension, but that doesn't seem to stop him from distributing hate literature. Now a local activist group might have him re-thinking his strategy.
Amber Fletcher from the Campus Feminist Action Network in Regina, Saskatchewan wrote in to announce a delightfully clever pledge drive:
We would like to collect pledges for each leaflet Whatcott distributes from now on, and donate that money to local GLBT groups.

If he continues, the GLBT centres will benefit, and we will have succeeded.
Outstanding! If you'd like to make a pledge and help out some worthy organisations, check out the CFAC website for upcoming details.
July 21st, 2006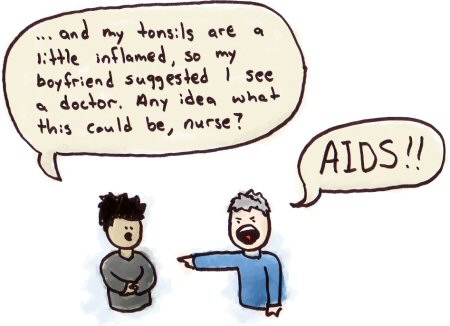 Bill Whatcott, a nutty Saskatchewan nurse, lost an appeal to have his nursing license un-suspended this week for defaming the health association Planned Parenthood. Whatcott was picketing Planned Parenthood's Regina office in 2003, harassing their patients, shouting derogatory slogans, and calling the workers there "sodomites," "murderers," and "disseminators of AIDS." Charming lad, no?
Of course, this suspension isn't anything new to Billy, as he's been fined multiple times in the past for inciting hatred toward gays, including $17,000 just last year for mailing out flyers jam-packed with his own brand of magical fantasy facts like: "sodomites are 430 times more likely to acquire AIDS and three times more likely to sexually abuse children."
Now, there's no word on how Billy did on his bedside manner courses back in college, but I'm guessing it might have been in the… oh, D, maybe D- area.
Proudly Canadian

The Trophy Shelf

Thanks to readers like you, Slap has been voted the Best GLBT Blog in Canada at the Canadian Blog Awards for the fifth consecutive year!

How to Slap

Find a kooky bigot
Extend your arm and form a firm slapping hand
Slap upside the head