OK, kiddo! Here are all the fantastically amazing posts tagged with Rob Anders
August 25th, 2006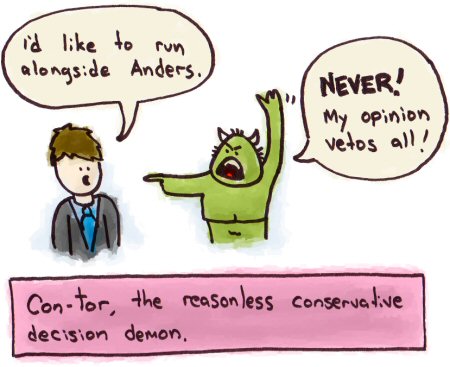 OK, in your best "soup nazi" voice: No reason for you! Next!
Walter Wakula, former Tory riding president for Calgary West, will not be allowed to challenge incumbent wacko , Rob Anders, for nomination. Absolutely no reason was given for Wakula's disqualification, leaving everyone to scratch their head noisily—an action that Tories seem to evoke quite easily these days.
Anders (who, incidentally, was my MP before I got the hell out of Calgary), is best known as the sole dissenter in giving Nelson Mandela honorary Canadian citizenship, calling the man a communist and a terrorist. I remember Anders more for his crafting of flyers that linked crystal meth usage to "homosexual sex marriage" and mailing them to the wrong constituency.
So, why wouldn't the conservative party allow a less controversial MP to run alongside Anders for the nomination when a clearly qualified former riding president is available? My guess: Anders is an undercover alien involved in a large conspiracy to slightly warm the rightmost chairs in the House of Commons! This is top secret stuff, folks…
July 31st, 2006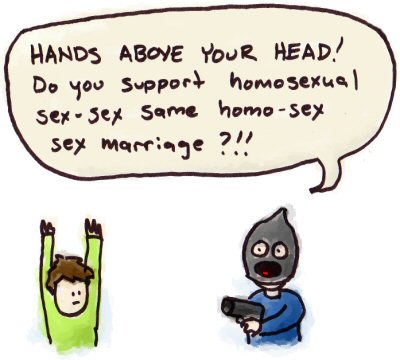 Ah, Rob Anders. My former MP. Although he's probably best known for being the sole dissenter in a vote to give Nelson Mandela, international hero, honorary Canadian citizenship (Anders said Mandela is a "communist and a terrorist"), I remember him for some equally baffling shenanigans.
Now how did it go again? Oh, yes! Anders used taxpayer money (rather than money from his party) to print flyers, emblazoned with a scary masked gunman, linking crystal meth usage and crime to—and I quote: "homosexual sex marriage." Then he mailed them to constituents in another province!
Raymond Chan, the Liberal MP for that region, was confused why another MP was targeting his constituents with such a bizarre tactic.
They're resorting to fear-mongering, if you look at the layout of this brochure. And also they're so outrageous. [Sexual] orientation is not a crime since the '70s.
Chan's campaign office was just as confused.
It's consistent with the concerns that some people have had with the social conservative agenda, coming out and talking about crime and throwing homosexuality into it.
Now, I can't help but wonder what Anders thinks about heterosexual sex marriage? I wonder…
Proudly Canadian

The Trophy Shelf

Thanks to readers like you, Slap has been voted the Best GLBT Blog in Canada at the Canadian Blog Awards for the fifth consecutive year!

How to Slap

Find a kooky bigot
Extend your arm and form a firm slapping hand
Slap upside the head