OK, kiddo! Here are all the fantastically amazing posts tagged with Saskatoon
November 9th, 2007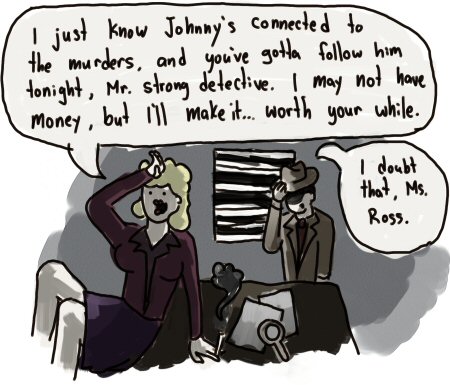 It's Friday; let's go for some fun news today!
The creators of Corner Gas are in talks to televise a series of novels about a gay detective in Saskatoon. The show, tentatively titled Quant, is based on the popular Russell Quant mystery novels, written by Canadian author Anthony Bidulka. Bidulka is understandably ecstatic:
I'm thrilled that CTV saw enough merit in the books and idea behind the Russell Quant character to take us to this new level. I have no idea whether or not this will amount to a whole hill of beans but I have fingers crossed and am enjoying the journey.
Strangely, Breakthrough Films does not mention anything about the main character's homosexuality in their online press release, but Bidulka doesn't appear concerned that the producers will turn his detective straight. The character's gayness is an important theme in the novels. "That's the selling feature," Bidulka noted.
Good luck to all involved in the project!
Until Monday, kids!
May 7th, 2007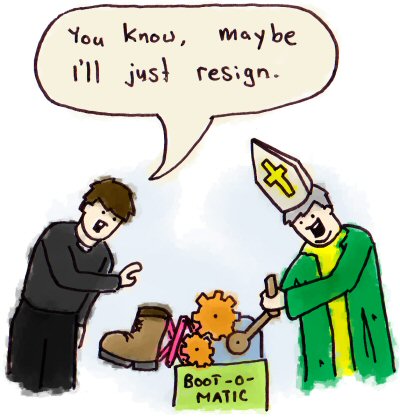 Reverend Shawn Sanford Beck, a priest in Saskatoon, has resigned his position after refusing to renounce same-sex marriage. Beck, who had his license stripped in January, was given a temporary license and an ultimatum by Bishop Rodney Andrews back in March: Either stop supporting equal rights for gays, or get lost.
Well, it looks like Beck has bravely chosen the latter. (Though he made his intention clear quite some time ago.) In an open letter, he called the church's position on same-sex marriage "theologically problematic and fundamentally unjust."
And, with that, I'm officially out of ideas on how to illustrate priests being kicked out by their churches. If you've got an idea for the next one, send your suggestions to:
Priest Ejections
c/o Slap Upside The Head
123 Gay Street
Montréal, QC G4Y 8O1
March 12th, 2007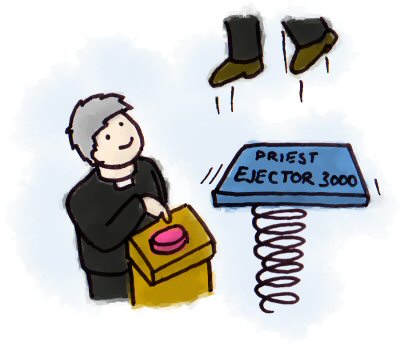 Anyone got a golf score clicker I can use?
An Anglican priest in Saskatoon will have his minister's license stripped for not refusing to perform same-sex marriages. Reverend Shawn Sanford Beck said he'd rather be dismissed than go against his conscience:
[Denying same-sex marriages] goes against everything else I'm about in my ministry and everything else that the church stands for. I'm trying to send a very strong message to the gay and lesbian community, and to other communities that have been alienated from the church, that we don't all think the same and there are people willing to go to the wall.
While I commend Reverend Beck for his stand, his ejection doesn't surprise me considering the Anglican Church is willing to shut down entire congregations and punish retired Archbishops over their pro-gay stance. Of course, the Catholic church is also quite happy to fire priests, deny communion to elderly volunteers and rescind charity money over gay speakers.
This judgment is apparently called the "What Would Jesus Do?" approach.
Incidentally, in addition to losing his minister's license, Reverend Beck will no longer be able to continue working for a Lutheran inner-city project. Yep, that'll teach him to treat gay people as ordinary human beings!
Proudly Canadian

The Trophy Shelf

Thanks to readers like you, Slap has been voted the Best GLBT Blog in Canada at the Canadian Blog Awards for the fifth consecutive year!

How to Slap

Find a kooky bigot
Extend your arm and form a firm slapping hand
Slap upside the head