OK, kiddo! Here are all the fantastically amazing posts tagged with Saudi Arabia
October 15th, 2012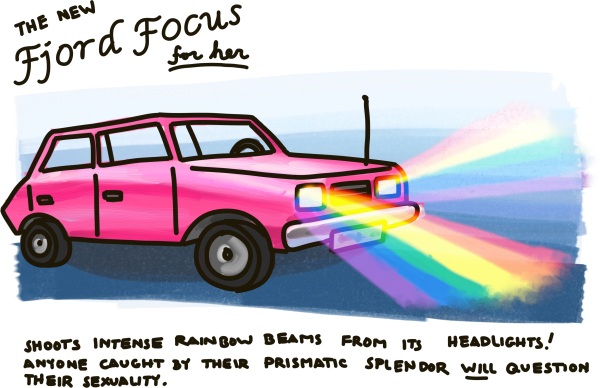 Saudi Arabia is one of the only countries in the world that forbids women from driving. Any woman caught behind the wheel there is subject to arrest and lashings.
Amidst growing international criticism for this policy, a report prepared for the country's legislative assembly has been released to justify their laws and bolster support. The report's findings don't look good, I'm afraid: Allowing women to drive vehicles, it says, would "increase prostitution, pornography, homosexuality, and divorce."
The authors didn't detail how women drivers actually results in these things, but my mother drove me places growing up, and I turned out gay. So—as you can see—all the pieces fit.
The kingdom of Saudi Arabia has launched a formal objection to a proposed kind of website address ending in .gay. The complaint asserts that the new top level domain name would offend their culture. Personally, I just wonder what the difference between google.com and google.gay would be. Perhaps the logo would be even more rainbowy.
Proudly Canadian

The Trophy Shelf

Thanks to readers like you, Slap has been voted the Best GLBT Blog in Canada at the Canadian Blog Awards for the fifth consecutive year!

How to Slap

Find a kooky bigot
Extend your arm and form a firm slapping hand
Slap upside the head