OK, kiddo! Here are all the fantastically amazing posts tagged with University of Alberta
Students and researchers at the University of Alberta have created a website that counts homophobic slurs on Twitter in real time. It's both amazingly awesome and a little depressing, but makes me pretty happy to be a U of A alumni. Check it out.
May 2nd, 2007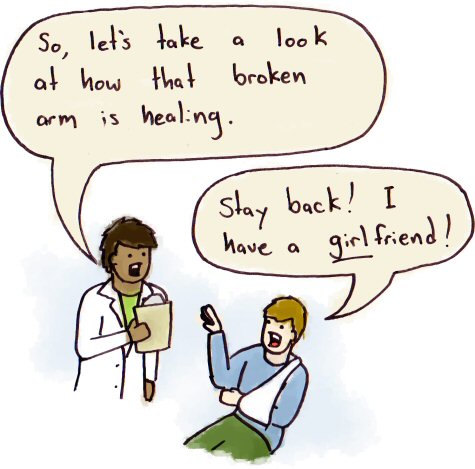 Researchers at the University of Alberta's Glen Sather Sports Medicine Clinic have found that athletes prefer female doctors to male ones. While the results were primarily attributed to the non-confrontational and caring attitude of female doctors, Dr. Marni Wesner, one of the researchers conducting the work, said she was taken off-guard by one additional recurring element: homophobia.
In particular, Wesner said that some male athletes expressed they'd dislike a male team doctor because they "don't know if he's gay."
Now, this might just be me, but a doctor's sexual orientation would probably concern me less than, say, the crippling pain that sent me there in the first place. Though, if potential attraction were a concern, I'd remind myself that doctors have seen so much anatomy under the context of injuries and infections that they probably turned asexual long ago.
March 30th, 2007
If you're in Edmonton today, you might get a sneaking suspicion that people are giving you the silent treatment.
For the first time ever, the University of Alberta's annual Day of Silence has been promoted to a city-wide event. The event, inspired by the GLSEN campaign of the same name, is where participants pledge not to talk until 3pm, symbolizing the silence and self-censorship that gay and lesbian people face while closeted. After 3pm, participants gather for a terrifically satisfying group scream followed by speeches from Mayor Stephen Mandel, openly gay City Councillor Michael Phair, and other activists.
While this type of event has been extraordinarily successful around the world, right-wing special interest groups in the states are none too pleased. On April 18th, GLSEN's National Day of Silence, "pro-family" groups are instructing parents to remove their children from school that day so they're not exposed to the… silence, I guess.
Well, until Monday, folks: "…"
Proudly Canadian

The Trophy Shelf

Thanks to readers like you, Slap has been voted the Best GLBT Blog in Canada at the Canadian Blog Awards for the fifth consecutive year!

How to Slap

Find a kooky bigot
Extend your arm and form a firm slapping hand
Slap upside the head