Edmonton's "Punch in the Face" Dress Code
April 24, 2006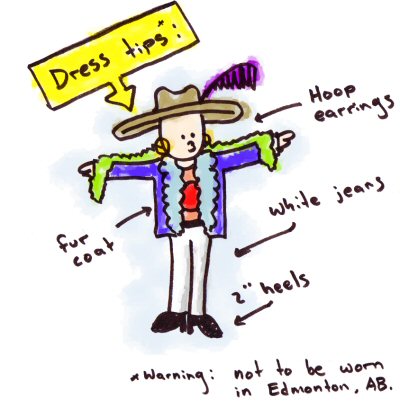 Here's an oldie: What do you get when you wear a fur coat, white jeans, suede boots, and a "Drama Queen" t-shirt to Edmonton's Gay Pride Week celebrations? Give up? A punch in the face from a crazy, anti-gay stranger!
I wouldn't bother holding for laughter on that "punchline." It's the brainchild of Nicolas Demers, a 19 year old anti-gay kook who pleaded guilty last week to punching a gay man in the face during Pride Week. Demers was caught after assaulting the man in City Hall last June, despite attempts to escape the building undetected. (Apparently, "cleverly" swapping t-shirts with a friend doesn't fool today's CSI-informed security guards.)
The motivation for this anti-gay attack was, well, spawned by irrational anti-gayness. "There should be a law against dressing like that," Demers told security personnel, "He deserved to be punched."
Happily, despite Demers' "creative lobbying," there aren't any laws against dressing colourfully. Though, there are apparently laws against punching someone in the face. Sentencing begins this June.