Anti-Gay Bill Targets Teachers
May 5, 2006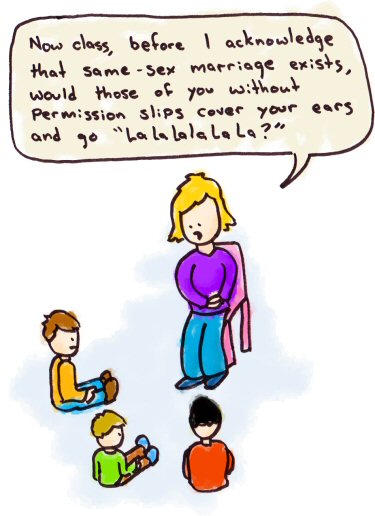 Ever notice that annoying "Whaaah!" sound coming from the Alberta parliament? No need to be alarmed, kids! It's just the provincial government throwing another one of its temper tantrums over same-sex marriage.
Ted Morton's Bill 208, which passed second reading this week, would make it OK for teachers to not acknowledge the existence of same-sex marriage in Alberta. And for teachers that do wish to acknowledge reality… well, they'd be required to send out parental warnings before speaking a word about the gays. How quaint!
When asked why this craziness was conceived, Morton replied: "[It's] to pre-empt the type of harassment of people who disagree with same-sex marriage." Yeah, because those people are so discriminated against. Also—wait, did that response have anything to do with parents and teachers?
Of course, Frank Bruseker, president of the Alberta Teacher's Association, whom this bill would actually affect, is insulted.
Requiring teachers to advise parents prior to making any mention of the fact that marriage in Canada may be between persons of the same sex will effectively gag any emergent discussion of this issue.

What does that communicate to gay and lesbian students, to their families and to the school community? These students are already at greater risk of being bullied, being alienated from school and eventually dropping out. They need all the help and support that the school system can provide.
If I may practice my Alberta lingo, let me say: "Darn Tootin', Frank!" But now, for my adorable elected Alberta MLAs, whoever wants to play crazy anti-gay make-believe forever, say "Yea."