Children's Book Deemed "Too Sophisticated"
May 12, 2006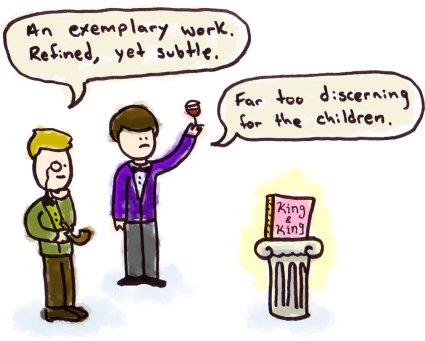 Once upon a time, there was a young prince who "never cared much for princesses." Although his mother introduced him to several potential suitors, he just couldn't find someone to marry. But one fine day, he was elated to discover another handsome young prince! They married and lived happily ever after! The end.
Thus goes the plot of the children's picture book, King & King, which was rejected on Tuesday by a Surrey School Board committee for being "too sophisticated" for grade three. And we shan't be introducing the children to that sort of sophistication, shall we?
But fear not, kids! If King & King is too hard to follow, there's always The Lion King: A tale of Mufasa, an emporer murdered at the hand of his rancorous brother—who deceives the rightful heir into believing he's responsible for his father's death. It's a classic Disney tale of overcoming personal anguish in exile, and it's available in picture book, too! Enjoy!