Pension Battle Goes To Supreme Court
May 15, 2006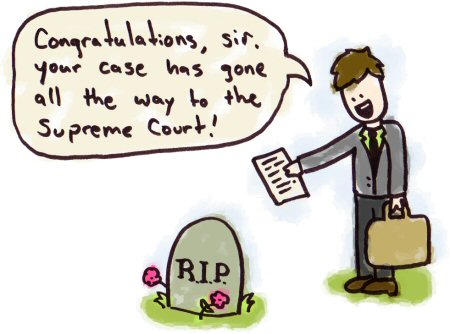 Think you can be too old for a lengthy court battle? Think again! George Hislop's class-action suit to receive same-sex survivor benefits will face the Supreme Court of Canada tomorrow. The kicker? If Hislop gets to keep his partner's pension, he won't be able to enjoy it; he died in October at 78.
To make matters even more interesting, the federal government is actually fighting the deceased's cause, saying it could set a precedent and cost taxpayers $80,000,000 or more. This is, of course, glossing over the fact that this figure (hmm… heavily inflated, you think?) was pretty much paid for by the same-sex couples themselves, through years and years of payments into the Canada Pension Plan. You know, because they just loved paying money into plans that only heterosexuals can benefit from.
Luckily, Doug Elliot, the lawyer representing Hislop, is painting a more realistic picture for the misguided feddies.
There would be no significant impact on the CPP—no increase in premiums or on benefits paid to anyone else. But the extra monthly support would make a huge difference for several claimants who desperately need it.
Well, a huge difference to the non-deceased claimants, at least. Although, I guess the estates of the others could always decorate up their headstones a little…