Gym Teacher Washes Hands
May 17, 2006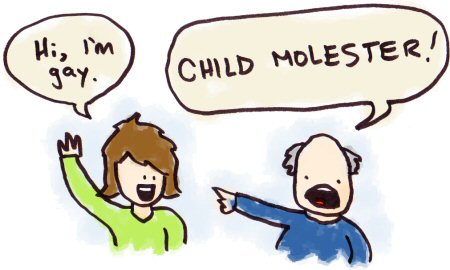 Lindsay Willow is a gym teacher. She is also a lesbian. One fine September, Ms. Willow was busy organizing an equipment storage room with a student helper. After the room was all tidy, they both washed their hands and stepped into the hallway. The end.
Oh, wait, no; I forgot to mention—one more thing happened. A minor detail, really. You see, at that moment, a fellow teacher saw the two leaving the locker room and, because Ms. Willow is gay, presumed her to be a child molester! He then presented outlandish allegations to his colleagues, the principal, and, of course, the police. The former two believed the loony yarn without any evidence whatsoever, and Ms. Willow was severely disciplined.
Sound unbelievable? Well, it happened! The Nova Scotia Human Rights Commission announced last week that Ms. Willow was falsely accused of molestation based solely on her sexual orientation. The tribunal then ordered the Halifax Regional School Board to deliver a full written apology and monetary compensation for their prejudiced nonsense. Because, you know, there's no heartfelt apology quite like a court-ordered heartfelt apology.
As for the moral of the story, let this be a lesson to all the gays out there: Never wash your hands.