And Now A Chilling Message From The Pope
May 24, 2006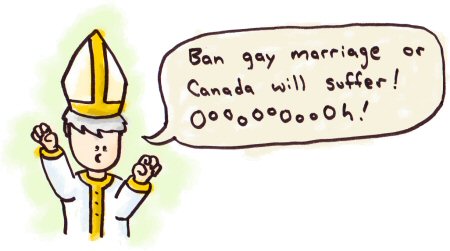 Run for cover! Pope Benedict XVI has a terrifying message for us Canadians!
In an allusion to same-sex marriage, the pope has blamed Canada's declining birth rate on the "pervasive effects of secularism," reiterating that the church proclaims and supports legislation "to create and live in a family, without it being substituted or confused by other forms or different institutions."
Upon hearing this terrible news, I have no doubt that Canadians will be running out into the streets—copulating furiously to prevent extinction of the Canadian race. It will then be necessary to completely obliterate gay marriage, since half of all Canadians (or something) turned gay when it was legalized!
Now, bring on the theocracy! It's our only hope!