School Board: Stop Calling Bad Things "Gay"
June 2, 2006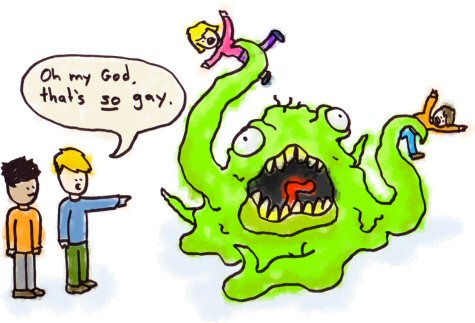 Using the phrase "that's so gay" to mean "that's horrible" has become unacceptably common, the Greater Victoria School District announced last month. And now they're doing something about it!
Armed with the slogan "That's so gay is not OK," school trustees launched a campaign aimed at getting students to think about what they say. Sara Bisson, a grade 11 student, agrees with the plan and thinks students don't always realise they're being hurtful.
They don't really mean it in a homophobic way, it's just said in a derogatory way and if you confront someone and say, "do you realize what you're saying," they usually say, "oh, but I didn't mean it like that."
Regardless of how successful the program turns out to be, it's a positive step. Now, if only we could get the anti-gays to realise that "you're evil and God hates you" is also irrationally hateful, we'd be all set!