Pride Week Quiz
June 12, 2006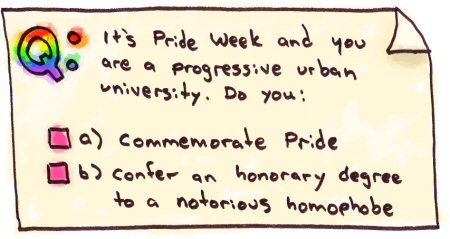 It's that time of year! Cities everywhere are celebrating Pride, and Canada's largest, Toronto Pride Week, is exactly one week away! But one urban university—located a stone-throw away from the heart of Toronto's vibrant gay community—is celebrating in a very special way.
Ryerson University will be presenting an honorary degree to notoriously anti-gay lobbyist, Margaret Somerville. And they've scheduled it to coincide with the Pride Week opening ceremonies. How thoughtful!
Anyway, Margaret—actually, shall we call her Margey? Margey is an "ethicist" and played a vital role in the equal marriage debate's losing anti-gay side. Uh, let me see if I can recall her arguments here…

Oh, yes, of course. Margey claimed that children of same-sex parents (whom she calls " gaybies ," I kid you not) lose their fundamental human rights through same-sex marriage. Oh, but "civil unions" for same-sex couples are OK with her. You know, because "civil unioned" couples can provide so much more for children than couples under the "marriage" label.
Regardless, students at Ryerson University have started an online petition to disinvite Margey from receiving the honorary degree. I wish them the best of luck. Because otherwise anything an "ethicist" says must be true, right?