Anti-Gay Troops Rally
June 16, 2006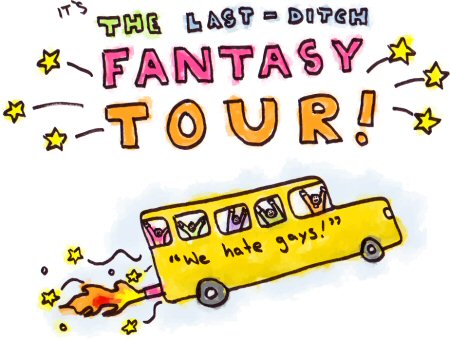 Hey, folks! So what were you up to yesterday? Working? Relaxing? How about riding the magical fantasy bus of über craziness? Sound exciting? Well, that's what some people were up to! Except they had a different name for it, and—I gotta say—it sounds much less exciting the way they put it: "The Man and Woman Union." Yawn.
The group, which consisted of about 200 Christians supported by two Conservative backbench MPs, traveled to our beloved Canadian parliament in Ottawa. Their goal: To convince the less than one dozen MPs who claim they're still undecided on this fall's bill to revoke gay marriage. Organizer Warren Booth spoke to the press:
If there are MPs who don't know which way to vote, hopefully by seeing us and our passion against this, maybe we can help sway their opinion.

Uh, huh. Of course, the group wasn't particularly subtle when asked what they have against the gays, claiming it's a no-brainer. "It's not a grey area," Boothy said, "it's black and white. What [the gays] are doing is sinful in the eyes of the Lord." He then added: " Don't get mad at us, we're the messengers."

Well, bonne chance, Man and Woman Union. You'll need it! After all, even your celebrity guest speaker, MP Harold Albrecht, is downplaying his role in your group—and he's the one that once said: "same-sex marriage will succeed in wiping out an entire society in just one generation." Hah!