Scam Artist Targets Gays
June 19, 2006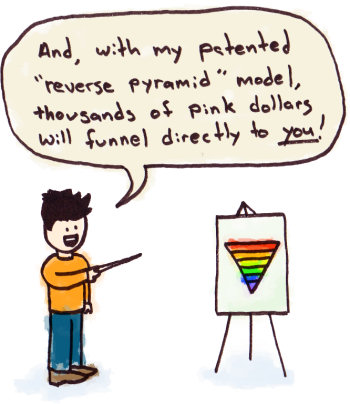 Well, I guess this is what you get for forming a close-knit and compassionate community. A telephone scam artist has decided to target the Nova Scotia gay community in hopes of getting some of their sweet, sweet… well, money! Disgustingly, he claims to be the victim of a horrible hate crime, weaving a fascinating tale of having been beaten, robbed, and in desperate need of cash.
What's sadder, the scam has been working. Kevin Kindred, a community figure, said the con takes advantage of how the community protects its own.
The reason why someone can pull a scam like this is because the community is so tight and really does look out for one another. It's unfortunate someone took advantage of it.
Luckily, Jim Bain, one of the prominent community publishers that the scammer has been impersonating, has a sense of humour about all this weirdness.
Last night, according to people I talked to, I was in Hamilton, Niagara Falls and Toronto. All three places, I got beat up. It's been a horrible vacation. (laughs)
As for all the gay Nova Scotians out there—always remember this moral: Uh, don't help anyone. Is that right?