Pro-Family Group Distorts Research
June 21, 2006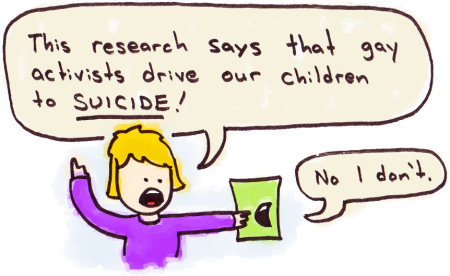 Troubling news, folks. A British Columbia researcher recently discovered that 38 percent of lesbian teens attempt suicide compared to only 8 percent of heterosexual girls. That's 4 out of 10; a startlingly high figure.
Now, how do you suppose Melissa Fryrear of the crazily anti-gay lobbyist group Focus on the Family weighs in on this? Well… (drum roll) it looks like she's placing the blame on… (eye roll) the gays! Observe:
Regrettably, [teen lesbians] think they have to embrace homosexuality because pro-gay advocates told them that they were born gay. And that is absolutely not true.
Uh, OK. So… the people trying to foster a more accepting society are responsible? Gee, I wonder what Dr. Elizabeth Saewyc—who actually did the research—has to say about all this?
Nothing in the brief results we presented or in our overall study could lead to such conclusions.

The research has been hijacked for somebody's political purposes or ideological purposes and that's worrisome. In fact, American studies have noted that gay teenagers are at the highest risk of suicide before they come out of the closet. After that, they do quite well unless they're harassed.
So, there you go. The "pro-family" types were caught lying again. How shocking. Utterly offensive and such. Well, I'm off to make some orange pekoe tea before someone starts interpreting it as being totally pro-citrus, even though there are no oranges in it. Who wants?