A Typical Calgary Pride Week
June 23, 2006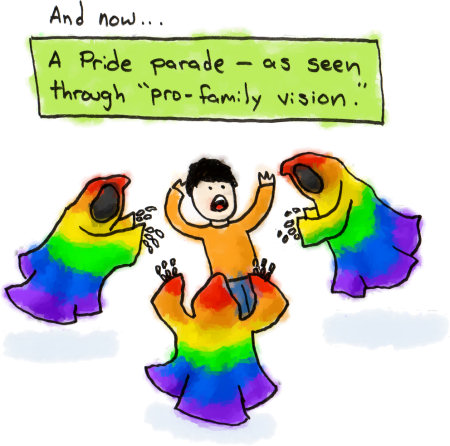 Calgary's police chief, Jack Beaton, warned anti-gay protesters that "there's such a thing as provocation" last week, after a protester who chased and called a gay man a "disgusting homo" was given a hefty, retaliatory tackle.
While the tackling was, of course, rightfully condemned, the police chief's warning isn't going over well with some of the protesters. Jeff Willerton, who was holding a quaint little "No Pride in Sodomy" sign that day, published an open letter on Wednesday, stating that not only were his slurs "in no way considered hateful" (chortle), but also that he thinks his group was the one provoked. The poor dears! Unwillingly incited into crafting offensive signs and yelling slurs!
Observe their rationale:
Two men spit at us, missing me but hitting my friend. This caused a great deal of concern for my friend, who knows that AIDS-infected spit in the eye or in an open sore can lead to the transmission of the disease.
Oh, Snap! Seriously. All us gays must be like walking rainbows of death—ready to infect anyone who crosses our path of gayness with the GRIDS! Run for the hills!
Incidentally, Tyson McCann Cormack, the spitter, had this to say:
I was chased and yelled at and I've never done anything my whole life. Well, I was tired of it today. I went to spit near one guy, but I did not spit on him. I spat near him as a sign that I wasn't impressed with [the slurs].
But, really, although the protesters were clearly being jerks, that doesn't exonerate a physical attack. After all, no matter how hurtful the "pro-family" types can be—no matter how much they go out of their way to personally insult us gays on our only day of celebration—I only dole out metaphorical slaps. It's just the cordial thing to do.