The Fake Gay Influx
June 28, 2006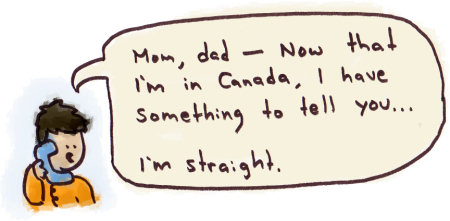 Canadian Embassies are on the look-out for straight guys in sheep's fabulous, designer clothing, as young men in India have been pretending to be gay in order to immigrate to Canada. The crazy scheme uses India's discriminatory ban on homosexuality as a basis for visa applications. Since Canada is one of the few countries that treats same-sex couples equally for immigration purposes, it's an easy target.
While this pink-is-the-new-scheme appears to be relatively harmless at first glance, some of India's gay activists are worried. "This may force the embassy to put a blanket ban on immigration on such grounds, which will affect genuine persons," said one Indian gay rights lawyer, adding that "international sympathy for the same-sex marriage movement may get diluted."
So, basically, Indian guys: If you're actually gay, be sure to turn up that "flame" of yours; the Canadian embassy is starting to get suspicious of your hetero counterparts, and you don't want to be mistaken for straight now, do you?