Crazy Anti-Gay Imam Barred
June 30, 2006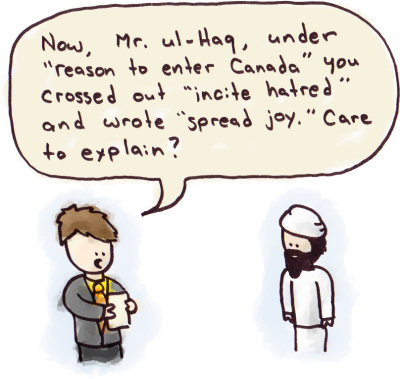 The Government of Canada has told Sheik Abu Yousef Riyadh ul-Haq, a radical cleric from Britain, that he is not welcome in Canada to speak to a youth conference this weekend.
Mr. ul-Haq, famous for inciting violence toward minorities, targets gays, Jews, Hindus, and even other Muslims in his sermons. A spokesperson for the Canadian Coalition for Democracies, the group that discovered some of Mr. ul-Haq's dangerous hate speech online, said the man simply shouldn't be allowed to spread hate in Canada.
Ul-Haq's speeches are intolerant. He says in his own sermon, "Please forgive me for polluting the mosque," before he would even utter the word homosexual.
Organizers of the Youth Tarbiyah Conference, of course, defended their decision to invite ul-Haq, calling him a charismatic inspirational speaker.
Well, Youth Taribiyah Conference, if you're looking for a last-minute replacement speaker, I remember a few inspirational ones I had in high school. One told us not to drink and drive, another said to get involved in the community… I don't think their views on the glory of martyrdom were the same, but otherwise they were pretty charismatic, I guess.