City Councilor Explodes Over AIDS Funding
July 5, 2006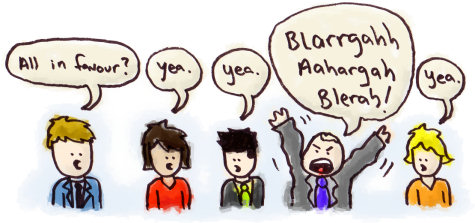 Have you ever wondered how a crazy, anti-gay city councilor would react to AIDS prevention programs? Well, wonder no longer, folks! Rob Ford, a Toronto city councilor, voted against granting city funds toward AIDS education. And while that's not particularly shocking, his five minute, on-the-record, angry rant is magnificently loony:
There are people dying every day of cancer, diabetes—all the other diseases. Why are we catering to [AIDS groups]? It's very preventable! If you're not doing needles and you're not gay , you won't get AIDS , probably. That's the bottom line! And that's preventable.

The general public does not agree with this [motion]. They think it's a complete farce, ridiculous! This is so embarrassing!
Uh, yeah, because there's nothing quite like ranting about the GRIDS to argue against funding for AIDS education.
Anyway, after Robby's five minutes of angry time, the other councilors cut off his mic. Kyle Rae, the gay councilor whom Robby ridiculed for "condoning" AIDS funding, had this on-the-record response:
I don't think it is worthy of this council to respond to the comments we heard a few moments ago. There are some who can be educated, and some who cannot.
Good on ya, Kyle. Oh, and the motion to fund AIDS education passed overwhelmingly.