Fun With Words At The Vatican
July 10, 2006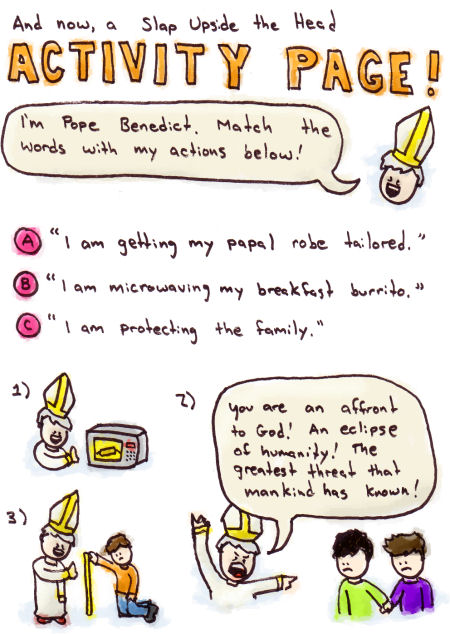 Pope Benedict visited Spain over the weekend. His mission: to "protect the family." And, as we all know by now, this actually means something more along the lines of "attack and malign the gays."
Spain, you see, is the third country in the world to provide its citizens with equal marriage rights, and this isn't sitting well with Benny. But while his message for Spain was penned in the same dinosaur-ese we've all come to know and love, I'm very excited to announce the Vatican appears to have hired some brand new creative writers!
You see, long gone are the days where same-sex marriage is merely "an attack on the family" and "an affront to God," according to the Vatican. Now it's "an attack on the pillar of humanity," "an eclipse of God," and their shiny new gun: "anarchic freedom!" Delightfully nutty!
Regardless of the descriptions, Emilio Menendez (one half of the first gay couple to be married in Spain) shared his thoughts on the pope's vocal opinions:
There are many different types of family. What defines a family is not my sex, my color or anything, but rather the desire to stay together, to love each other.

I'm not surprised they don't see us as a family but it's just a question of time. The Church is very, very, very slow—four, five, six centuries behind.
Well said. But just think: the longer the Vatican takes to catch up with reality, the greater my chance of becoming a creative description writer and living in the Vatican palace! How about this one? "A giant mirror of, uh, un-familiness to block the… beacon… of family-osity!" No?