Visa Delays for Out Games Participants
July 14, 2006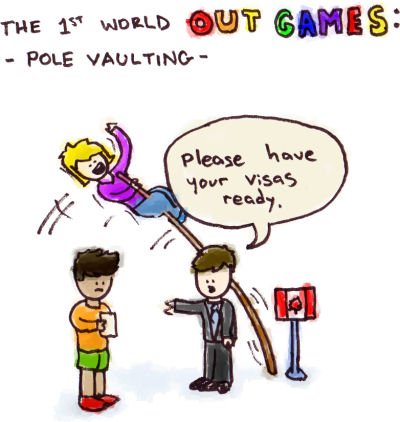 The 1st World Out Games for gay athletes, to be held in Montreal from July 26th to August 5th, has run into a teensy little problem. Nearly 250 of the foreign athletes to compete, it appears, still have not yet been granted visas by the federal government.
Immigration minister, Monte Solberg (who, incidentally, voted against the marriage equality bill last year), issued a statement through his office saying that they are not discriminating based on sexual orientation, and that many visa applications are still in the review process. In fact, it turns out that several of the athletes have criminal records causing the government to go into a lengthy review.
The problem with this? Many of these criminal records are for athletes who were persecuted in their respective countries for being homosexual.
Hmm… This doesn't bode well, Monte. You might want to speed the review process along here. After all, there's no fury quite like that of a gay man deprived of throwing his men's-diving-watching party!